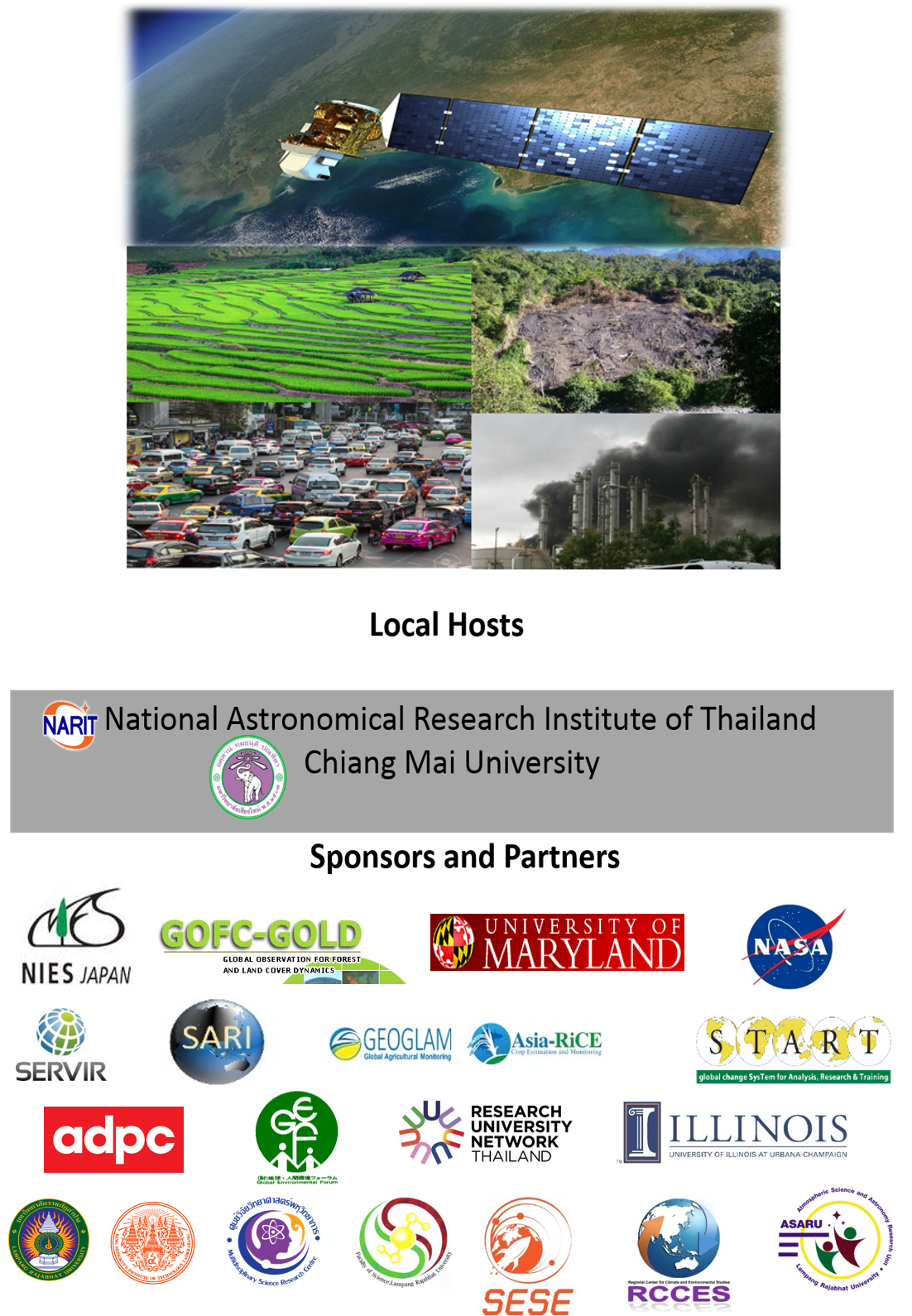 Từ ngày 17-19/7/2017, FIMO tham gia Hội thảo NASA LCLUC SARI International Regional Science Meeting in South/Southeast Asia tổ chức tại thành phố Chiang Mai, Thái Lan.
Hội thảo gồm các 4 chủ đề  chính sau:
LCLUC in Agriculture
Urban LCLUC
Emission Inventories and Land Atmospheric Interactions
Land Use/Cover Change and Forestry
Dưới đây là tóm tắt nội dung của từng chủ đề.
A. LCLUC trong Nông nghiệp
GS. Chris Justice (ĐH Maryland, Co-Chari of NASA LCLUC Program) trình bày tổng quát những hoạt động của GEOGLAM.
Dr. Keo Oyoshi (Jaxa) trình bày về các hoạt động của Asia-RiCE
Dr. L.D.Nguyen (VNSC-VAST) trình bày về nghiên cứu giám sát lúa ở đồng bằng sông Mekong, Việt Nam sử dụng ảnh sentinel đa thời gian.
Dr. Kabir Uddin – ICIMOD (The International Centre for Integrated Mountain Development) trình bày về giám sát lương thực ở vùng Hindu-Kush Himalya. Đây là khu vực trải dài 3500km và bao gồm các lãnh thổ của 8 quốc gia Afghanistan, Bangladesh, Bhutan, China, India, Myanmar, Nepal, Pakistan.  Đây cũng là nguồn của 10 con sông lớn nhất Châu Á: sông  Amu Darya, Indus, Ganges, Brahmaputra (Yarlungtsanpo), Irrawaddy, Salween (Nu), Mekong (Lancang), Yangtse (Jinsha), Yellow River (Huanghe), and Tarim (Dayan). Lưu vực những con sông này cung cấp nguồn nước cho 1.3 tỉ người.
B. Emission Inventories and Land Atmospheric Interations
GS. Toshimasa Ohara (National Institute of Environment Studies, Japan): Historical Analysis and Inverse Modeling of Air Pollutant Emissions in Asia:

Giới thiệu chung về Ô nhiễm không khí ở Châu Á
Dự án S12 tài trợ bởi Bộ Môi trường Nhật Bản.
Các nguồn phát thải chính ở châu Á: đốt, công nghiệp, nông nghiệp và các nguồn khác
Phân tích việc phát thải ô nhiễm theo các vùng của Châu Á
Phân tích cụ thể về phát thải ô nhiễm không khí ở các quốc gia Đông Nam Á
Xu hướng phát thải ONKK tại Thái Lan từ 2000-2014
Ví dụ về việc giảm phát ONKK tại Nhật bản do Chính phủ Nhật thay đổi chính sách về ONKK
Inverse modeling (top-down approach)

Lý do có mô hình: vì phát thải ngày càng nhiều mà số liệu thống kê phát thải thường chậm nhiều năm
Dùng xu hướng ô nhiễm để tính lại mô hình phát thải

Cập nhật thông tin dự án Fukushima của GS. Ohara

Mục tiêu: Đánh gia tác động môi trường sau thảm họa Fukushima năm 2011

Inserse-model used
Inter-comparision of CTM for Atmospheric.
Giám sát thay đổi sử dụng đất và ảnh hưởng của nó tới hệ sinh thái

Eric Vermote (NASA Goddard Space Flight Center, USA). Chủ đề: A Generic Approach For Inversion And Validation Of Surface Reflectance and Aerosol Over Land: Application To Landsat 8 And Sentinel 2

LaSRC: surface reflectance code
Landsat 8 and Sentinel 2 atmospheric correction scheme (most based on MODIS C6)
Atmospheric correction algorithm
Methodology for evaluating the performance of L8/S2
Evaluation of the performance of L8
ACIX: CEOS-WGCV Atmospheric Correction Inter-comparison Exercise
ACIX results for the LaSRC algorithm (L8/S2A) land sites only, no cloud

George Lin (National Central University, Taiwan). Chủ đề:  Updates of the Seven South East Asian Studies (7‐SEAS)

Biomass burning haze in SEA
Patterns of Total Smoke FLux
7-SEAS:

nghiên cứu ảnh hưởng của biomass-burning Aerosal tới Air quality

Các hoạt động của 7-SEAS

Thiết lập các in-situ instruments từ Chiang Mai Thái Lan tới Dongsha Taiwan
Đánh giá mô hình lan truyền ô nhiễm không khí

7-SEAS 2018 Spring campaign
Drone Measurement
Tham khảo thêm về G. Lin: http://aerosol.atm.ncu.edu.tw/en/

Ronald Macatangay (National Astronomical Research Institute of Thailand,  Thailand). Chủ đề: New Ground‐Based Environmental Remote Sensing Stations and Aircraft Campaigns in Southeast Asia
– Tsuneo Matsunaga (National Institute of Environmental Studies, Japan). Chủ đề: Carbon Dioxide and Methane Emissions Derived from GOSAT Data

Giới thiệu GOSAT Greenhousse Observing Satellite
Danh sách  các vệ tinh quan sát Greenhouse Gases
GOSAT L4A products https://data2/gosat.nies.go.jp
Global total C02 and CH4 Annual Net Flux GOSAT and other Top-Down Estimates
GOSAT L4A CH4 Net Flux for region 30-34 : Indian , West China, West China – Japan, South SEA, North SEA

Narisara Thongboonchoo (King Mongkut's University, Thailand), Chủ đề: Emission Inventories in Thailand from Industrial and Biomass burning Sector during 2011 –

Forest Area, Agriculture (Rice, Maize, Sugarcane)  area in Thailand
Industrial Sector
Emission Factor Technique
Method for calculating emission from biomass burning (forest and agriculture): ground data and satellite data

Forest burning: satellite data from FIRM, NASA
Agriculture:

Method for calculating emission from Industry:

Method: amount of energy usage (TOE)

Result:

2-hour distribution of Forest Fire
Monthly distribution of Fire frequency in Agriculture, area from MCD 54
Spatial Distribution of Fire data
Air pollutants emission in 2010,2011 (CO, CO2, NOx, TPM, PM2.5, BC)
Emission from Industrial Sector.
Phát thải từ cháy rừng và đốt trong nông nghiệp gần như tương đương nhau
Phát thải từ công nghiệp lớn hơn nhiều so với phát thải từ việc đốt sinh khối (biomass burning)

Somporn Chantara (Chiang Mai University, Thailand). Chủ đề: Emissions of Biomass Burning Simulated in Open Burning Combustion Chamber
Paul Griffiths (National Centre for Atmospheric Science and Cambridge University, United Kingdom). Chủ đề:  Simulations of Tropospheric Ozone in the Later 21st Century Using the United Kingdom Chemistry and Aerosols (UKCA) Chemistry‐Climate Model: Interactions Between Isoprene Emissions, Climate and Land Use Change
  Wataru Takeuchi (The University of Tokyo, Japan). Chủ đề:  Impact Assessment of Socio‐Economic Development on Urban Air Quality in Indian Mega‐Cities

Đánh gia mức độ ảnh hưởng của phát triển kinh tế xã hội đến chất lượng không khí đô thị ở các thành phố lớn của Ấn Độ
Nightlight characteristics can differentiate emission causes
Environmental Kuznet's Curve
IPAT equation
STIRPAT equation
AirRBG – analyze anthropogenic urban pollution
AirRGB scale for scenario estimation
Validation with US Embassy monitor, Beijing
Urban morphology affects air quality

Tatsuya Hanaoka (National Institute of Environmental Studies, Japan). Chủ đề:    Impacts of Economic Development and Urbanization in South/Southeast Asia for Estimating Future GHGs and Air Pollutants Emissions

Là một nội dung của Dự án S12 tài trợ bởi Bộ Môi trường Nhật Bản
Research Motivation: How to achieve emissions pathway of the 2degreeC
How much we can reduce SLP
Sources of CH4 emission from Asia
GHG emission from Waste Sector in Asian countries
How to estimate CH4 from solid waste in landfill (method in IPCC guideline)
Historical Municipal Solid Waste (MSW) generation in China, a rapid growing and urbanizing country
Correlation with energy use and urbanization

the more energy use per capita increase, the more MSW per capita are generated
The more urbanization increase, the more MSW per capita are generated,
The more GPD per capita increase, the more MSSW per capita generated
The more income per capita increase, the more MSSW per capita generated
Reduction of landfill can reduce CH4 emission largely
C. Urban LCLUC
Land Cover Change / Land Use Efficiency in Southeast Asia: The Objectives and Language of Urban Planners and Economists – Doug Webster (Arizona State University, USA)
Urbanization and Environmental Changes in Southeast Asia Countries – Peilei Fan (Michigan State University, USA)
Adapting Climate Change Impacts in the Urban Ecosystem: Green Spaces and Community
Carbon Footprint in Malaysia – Mastura Mahmud (Universiti Kebangsaan, Malaysia)
D. Land Use/Cover Change and Forestry
Resilient Landscapes and Socio‐economic Development in Thailand – Louis Lebel (Chiang Mai University, Thailand)

Renewable energy policies have a set of ambitious
Renewable energy policies can have substantial impact on LCLUC and landscape resilience
Policies like maintaining protectd areas help conserve biodiversity and provide other significant eco-service
Expansion of feed conr to support changing diets drive repaid LCLUC in Nan Province
Reductions in forest cover likely to have major impacts on biodiversity and large mammals
2004 Indian Ocean Tsunami degrade capacities of mosst LCLUC classes to provide ecosystem services
Regional economic development an integration ideas have often been driven by road infrastructure
New roads create links to other places transforming access to markets and range of viable livelihoods
Urbanization arond Chiang Mai may be reducing resilience to floods and droungts
Conclusion:

THere is a growing body of work on the implications of socio-economic development for landscape change in Thailand
By drawing on understanding of ecosystem services this work suggests how landscape resilience may be changing as a result of specific

High‐resolution Land Cover Mapping Projects in JAXA/EORC – Kenlo Nasahara (JAXA, Japan)

Data from Jaxa:

ALOS/AVNIR2 -HLP (high level product)
2006 -2011
10m resolution
JP/VN/INDO

Classification algorithm
Output: JAXA hight-resolution landcover map: 10m resolution, 10 categories
North Vietnam LCLUC map (Hoang Thanh Tung)
Jaxa Global forest map
jaxa global forest
JICA-JAXA forest early warning system in the tropics
DBUX: database unmixing: spatial-temporal data fusion technology

high temporal , low spatial –fusion–> low temporal, high spatial

Ground truth SACLAJ

Site-base dataset for assessment of LCLUC data
Jaxa Super site 500
Phenological Eyes Network
Good practice:

Time-lapse camera
REphotography
Why not share and open the ground (in-situ) data
Jaxa LCLUC new satellites:

GCOM-C
Alos 3.4
ALI
Envonriment Kurze Curve

Land Use Cover/Change Activities in SERVIR Himalayas – Birendra Bajracharya (SERVIR HKH, ICIMOD, Nepal)

(too much information –> need to ask for the ppt)

Regional Land Cover Monitoring System – David Saah (University of San Francisco and Spatial Informatics Group, USA)

(very interesting –> need to study)

Improving the Satellite Derived Forest Cover Dynamics in South and Southeast Asia – Atul Jain (University of Illinois at Urbana Champaign, USA)
Land Use/Cover Changes in Nepal – Rabin Raj Niraula (Helvetas Swiss Inter‐cooperation, Nepal)
Evaluating the Status and Ecosystem Services of Myanmar's Mangroves (2000‐2014) – Soe
Myint (Arizona State University, USA)
Integrated Monitoring of Forest Life Cycle Using Time Series Landsat Observations and Field
Inventory Data – Chengquan Huang (USA)
Rubber and LCLUC in Mainland Southeast Asia – Jefferson Fox (East West Center, USA)
Assessing the Extent and Drivers of Forest Plantation Establishment in Andhra Pradesh –
Randolf Wynne (Virginia Tech, USA)
Multi‐Scalar Telecouplings in the East‐West Economic Corridor between Da Nang, Vietnam and
Khon Kaen, Thailand ‐ Stephen Leisz (Colorado State University, USA)
Evaluation of Sentinel‐1A Data for Above Ground Biomass Estimation in Different Forest Types
of India – Krishna Vadrevu (NASA MSFC, USA)
 Land Cover/Land Use Changes in Pakistan – Faizul Bari (Conservator of Forest, Planning and
Monitoring, Pakistan)
Dynamics and Impact of Land Use/Land Cover Change of Mahanadi Delta Region, India – Mani
Murali (National Institute of Oceanography, GOA)
Thomas – Phóng viên tạm trú của FIMO tại Chiang Mai, Thailand
Thomas Friedman
https://fimo.edu.vn/wp-content/uploads/2018/11/fimo-logo-300x97.png
Thomas Friedman
2017-07-17 12:54:39
2017-07-17 12:54:39
FIMO tham gia hội thảo NASA LCLUC SARI International Regional Science Meeting in South/Southeast Asia