The 10 Most Popular Articles of 2016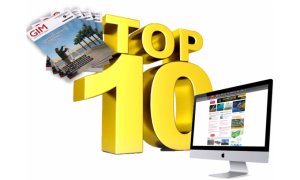 We are revealing the ten most read articles on GIM International this year! We did not tweak anything: this is what it is! So this list probably gives you a good indication on what is hot in the geomatics industry. Lidar, UAVs, 3D, Geo-IT and the processing of large amounts of geospatial data appear to be the key topics in our field as of 2016. Let's see what next year will bring! For now: enjoy looking back at the trends and developments of the past year, and get a good insight into the state of today's surveying profession.
Laser Scanner in a Backpack
The Evolution towards All-terrain Personal Laser Scanners
Laser scanning systems have gone through a major evolution in the past decade. After the initial breakthrough of airborne laser scanners (ALS), other types of laser scanning systems have emerged, most notably terrestrial laser scanners (TLS) and mobile laser scanners (MLS). While these three main types of Lidar systems together serve a large number of applications, none of them are optimised for fast and flexible scanning in challenging locations, rugged terrain and complicated urban structures. Personal laser scanners (PLS) fill this void and are now evolving towards compact, agile and flexible solutions for mapping complex environments. This article explains the new Akhka R2 PLS and illustrates its use in various applications. Read on
Producing High-quality 3D Maps from Lidar
DIPPER, a spin-off company from the University of Twente, provides a breakthrough solution for processing massive amounts of Lidar data accurately and efficiently. It offers comprehensive services related to Lidar data processing and 3D scene modelling. Since the self-developed software is highly automated, one operator working with DIPPER on one laptop can create high-quality 3D maps for 10,000 buildings within just one week – equivalent to at least ten times faster than normal. The high efficiency and accuracy boost large-scale applications such as asset management, smart city, securities development and urban planning. So far, DIPPER has successfully created 3D models for five international cities. Read on
Selecting Cameras for UAV Surveys
A Review of Cameras Popular amongst Aerial Surveyors
With the boom in the use of consumer-grade cameras on unmanned aerial vehicles (UAVs) for surveying and photogrammetric applications, this article seeks to review a range of different cameras and their critical attributes. Firstly, it establishes the most important considerations when selecting a camera for surveying. Secondly, the authors make a number of recommendations at various price points. While this list is not exhaustive, it is intended to present a line of reasoning that UAV practitioners should consider when selecting a camera for survey purposes. Read on

UAVs in the Mining Industry
Capturing the Andalusian Mina de Aguas Teñidas
A growing number of mining companies are employing unmanned aerial vehicles (UAVs). Equipped with digital cameras, such remote-controlled small aircraft generate high-resolution aerial imagery which can be further processed to produce highly precise orthophotos, point clouds and 3D models. Surveyors and engineers can use this data to make statements and forecasts about the development of the mine, document changes as well as calculate volumes of spoil and stockpiles. In mines with both aboveground and underground areas, UAVs can provide important information about the state of the aboveground area, thus improving the safety of the workers underground. This was practised in an 80-hectare area of the Mina de Aguas Teñidas in Andalusia, Spain. Read on
Parallel Computing in Photogrammetry
Seamless Orthomosaic Creation from Massive Imagery
The race between data production and processing capacity has been going on for many decades, with data production usually on the winning team. This is also true for airborne and space-borne imagery, as the amount of images captured by satellite sensors and aerial cameras is growing not only steadily but also rapidly. How can the abundance of pixels be processed into photogrammetric products quickly and effectively? The answer lies in parallel computing. Today, computer clusters enable fast and affordable processing of photogrammetric tasks. Read on to learn how parallelism speeds up the creation of seamless orthomosaics.

New 3D Map Solution Covering Norway
Norkart
Worldwide, most municipalities are still making regular 2D maps for online publication, including maps for zoning plans, municipal plans, property borders as well as approved sites for new construction projects. However, the 'man on the street' has little or no knowledge of how to read such maps. Norkart in Norway has now launched a brand-new 3D map solution, Kommunekart 3D, which covers the whole country and has the potential to revolutionise map use. The key aims of 3D visualisation are more simplicity, greater equality and better understanding. People outside the geomatics business often perceive maps and map data as complicated, but the usage of 3D enables everything from zoning plans (see Figure 1) to major road and public transport developments to be visualised easily (see Figures 2 and 3). This gives both internal and external target groups new insights into the geography of their municipality, neighbourhood or surroundings. Read on
The Current State of the Art in UAS-based Laser Scanning
Airborne Laser Scanning with a UAS
Airborne laser scanning (ALS) offers a range of opportunities for mapping and change detection. However, due to the large costs typically associated with traditional ALS, multi-temporal laser surveys are still rarely studied and applied. Unmanned aerial systems (UASs) offer new ways to perform laser scanning surveys in a more cost-effective way, which opens doors to many new change-detection applications. What are the differences in suitability between the two main types of UAS platforms – fixed-wing systems and rotorcraft – and what is the current state of the art in UAS-compatible laser scanning systems? Read on to find out.
Cadastral Boundaries from Point Clouds?
Towards Semi-automated Cadastral Boundary Extraction from ALS Data
Proponents of the new era for land administration argue that countries must explore alternatives to accelerate land administration completion. As an example, fit-for-purpose land administration is based on the use of printed imagery, community participation and hand-drawn boundaries. Digital solutions then convert the generated analogue data into useful digital information. However, the approach is manually intensive, and simple automation processes are continually being sought to cut time and costs. One approach gaining traction is the idea of using image processing and machine learning techniques to automatically extract boundary features from imagery – or point cloud data – prior to even entering the field. The approach could speed up activities both in the field and in the office. Read on for insight into the ongoing developments.
Mapping Indoor Spaces with an Advanced Trolley
Equipped with Laser Scanners, Cameras and Advanced Software
Few museums, shopping centres, airports and other indoor spaces have been mapped, although the demand for detailed 3D models of such spaces is accelerating rapidly. Here, the authors present a trolley-based system equipped with laser scanners, cameras and advanced software aimed at creating, visualising, navigating through and exploring detailed and accurate 3D models of indoor spaces. The system can capture up to 50,000m² daily. To date, ten mapping trolleys are operational; two are operated by NavVis and eight by other companies. The potential is huge: according to estimates, at least 50 billion square metres of interior spaces will be mapped within the next five years. Read on
Multispectral and Thermal Sensors on UAVs
Capabilities for Precision Farming and Heat Mapping
Mini and micro unmanned aerial vehicles (UAVs) in combination with cost-efficient and lightweight RGB cameras have become a standard tool for photogrammetric tasks. In contrast, multispectral and thermal sensors were until recently too heavy and bulky for small UAV platforms, even though their potential was demonstrated almost a decade ago. Nowadays, however, lightweight multispectral and thermal sensors on small UAVs are commercially available. Read more about their capabilities for use in precision farming and heat mapping.
Nguồn: www.gim-international.com
Nguồn: GIM- International.
0
0
Hung Bui
https://fimo.edu.vn/wp-content/uploads/2023/09/logo-fimo-1-1-300x92.png
Hung Bui
2017-01-15 12:19:25
2017-01-15 12:19:25
The 10 Most Popular Articles of 2016